語言:
English


P

hoto Credit: Tsai Ing-Wen Facebook
2016 ELECTIONS in Taiwan drew  attention in Thailand even from the first announcement. Interestingly, in Thai cyberspace, netizens converse about Taiwan politics in relation to the current Thai politics. The Facebook fanpage of BBC Thai, resuming service since the military coup in 2014, often serves a productive space for discussion. The page posted a number of threads following the unofficial Taiwanese presidential result which indicated that Tsai would be going to win. As expected, netizens posted comments which reflected not simply their attitude towards Taiwan, but towards Thailand as well. In this article, I will post examples and discuss this phenomenon.
Brief Background of Thai Politics
COMPARED WITH Taiwan, Thailand has been much more politically unstable. In Thailand, after the transition from absolute monarchy to democracy, people in theory were the ones who determined the country's trajectory through election. But the passage to "full" democracy is full of thorns; rarely did prime ministers serve in office full terms. Military coups were not uncommon in disrupting democratic process.
Yingluck Shinawatra. Photo credit: WikiCommons
In the most recent case, Prime Minister Yingluck Shinawatra decided to resign and turn power to the people, organizing elections in early 2014. However, severe disruptions occurred in the election process. On the day of actual election, they even formed people barricades not to let prospective voters in the poll stations. The election was considerably disrupted and its result was declared null.  As a result of the political crisis, in late May 2014, the Thai military staged a coup, seizing power. People's voices remain unheard.
Reflection Tendency
IN FACEBOOK POSTS, netizens tended to discuss Taiwan with admiration, or else with a short reference to mainland China. In comment with 192 likes, Tavatchai Vajara stated "Taiwan [culture and practice]  prioritizes people's rights to vote as a whole."  This was the highest-ranking comment on the news article is posted on. Mob Korawit's reply, which garnered three likes, stated: "Taiwan is a "civilized" China and preserves traditional Chinese culture. It does better than mainland China does." There was someone who claimed to be a Taiwanese fluent in Thai, Satie Tang in a comment with forty likes wrote: "I am Taiwanese and so proud."
Moreover, a significant number of netizens made comments directly about Thailand, without reference to Taiwan.
Pismisiri Dechsungneon in a comment with 119 likes stated: " The country [Thailand] would be moving forward and without any dispute, if people had learnt how to play in the political game following the rules. But the Thai party did not conform to the rules and could make the most effort [to attain power], ultimately resulting in the chaotic situation. Bad karma for Thailand."
Nattaya Wharrad in a comment with 33 likes stated: "Thinking of [ex-] Prime Minister Yingluck, who won the national election elegantly. Congrats to Taiwan."
ละมัยละมุน ใจเกินร้อย in a comment with nineteen likes stated: "To those who blame Yingluck, if she had been stupid, no one would have elected her prime minister. [However] she had not been in office for her full term. She was [controversially] removed from power. [It is] because there were a number of people who have the opinion like you [prejudice against Yingluck]. You fear women and there is no progress to the country as such."
วิสิทธิ์ชัย ไชยอินทร์ in a comment with three likes responded with:  "We Thais are yearning for election, albeit this is unpromising."
Some acted as a political analyst proposing explanations for the political situation. Dassananjali Pat in a comment with twenty three likes: "I think, both KMT and DPP are campaigning for 'Taiwanese independence' to secure popular votes. In fact, the odds remain difficult, because the Beijing government is standing firm and struggles against independence. Importantly what Taiwan leaders should always address is to maintain good relationship with the Beijing government, at the same time carrying on promises to the countrymen, in moving the country forward without conflict in ideology and polity."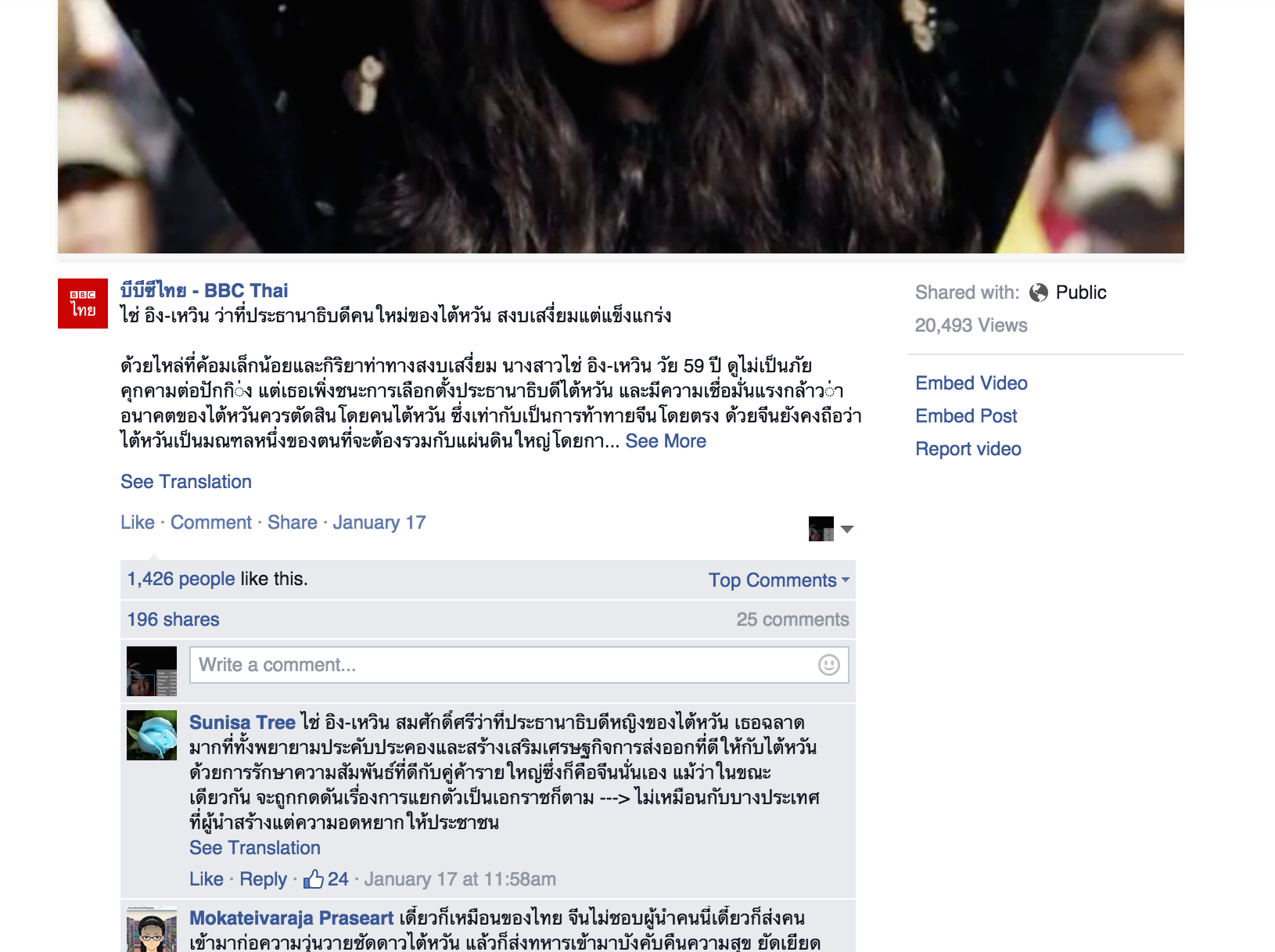 Intriguingly, some provided discussion comparing the political situation of Taiwan to Thailand, or even with that of South Korea:
Peipei Chill in a comment with twenty-two comments stated: "Taiwanese voted with self-consciousness, not with bias like [many] Thais. They vote, considering people's past performance and skills, not because of the reputation of individual or the party they belong to. They are quite objective, praising good deeds and criticizing if there is weakness."
'Good' democracy is not required to wait for others to respect our vote. But it is first how we ourselves know how to respect our voice. Deprived of rights, some [Thais] became angry.
But if the [Thai] people's voices had been strong enough, the military would not do something like this [staging the coup]. Because we were fighting against fellow nationals, this made it easier for them to take advantage of this 'crisis' to strip us of our own power.
Taiwan had been under a military regime for decades, started from provincial election, and [gradually] laid solid [democratic] foundation. As soon as the people were ready, they set up national elections. This was some 20 years ago. Now they have a proper system; the Taiwanese respect fellow nationals [in their rights to vote]."
Indira Song replied in a comment with thirteen likes: "Huh! Sad. South Korea assembles the [good] nation within 50 years, and now it becomes one of the three important countries whose economy stands arrogant against world's economy. As for Taiwan, they took 100 years and could achieve the same result. Thailand has been under this process already for a long time and could have progressed further."
Should you wish to look further, here are the links:
https://www.facebook.com/BBCThai/videos/1730267773860922/
https://www.facebook.com/BBCThai/videos/1730091650545201/