---
TAIWAN'S NINE-IN-ONE ELECTIONS
A SEXUALIZED MOVEMENT WITHOUT SEXUAL RIGHTS
The scandal which has rocked Taiwanese activist circles in the past week has been Sunflower movement leader and Miaoli legislator hopeful Chen Wei-Ting's admission of several sexual harassment incidents. Why the scandal over Chen Wei-Ting would become such a large incident was because the significance of Chen entering electoral politics was viewed in terms of Chen's personal appeal as a political actor and individual rather than in terms of what Chen represented. In this way, the actual questions at hand in regards to deep-rooted issues of male sexism and chauvinism in Taiwanese activist politics and society end up buried.
把握大選衝力,將人權放上台灣首要議題
經過上星期六的勝利,民進黨再一次得到了完成陳水扁總統未竟之志的機會。儘管民進黨主席蔡英文目前看來是非國民黨陣營最被看好的2016總統候選人,但包含無黨籍候選人在內的其他可能人選,未來兩年內也將起而挑戰她,或是角逐立法院席次。不管最後是誰代表參選,反對陣營都一定要把握這次勝選的衝勁,再次將人權排上台灣的首要議題。
遊戲規則
遊戲規則真的改變了嗎?誠實評估起來,恐怕沒有。就算太陽花運動讓先前台灣政治的連續體產生斷裂,如今看來,幾乎隨著太陽花運動一結束,人們就回歸日常活動了。儘管太陽花運動讓大量的新團體得以產生,新面孔與新領袖也得以在台灣社運政治的光譜上亮相,他們是否僅僅增加了參與台灣既有公民社會的組織數量,卻不曾根本改變公民社會與選舉政治的關係則仍然令人疑惑。但未來如何還有得瞧。假如台灣的選舉真的只是一場膚淺而腐敗的遊戲,或許這遊戲總有結束的一天。但當下的鬥爭仍然不可輕忽。
STORMING THE LEGISLATURE A SECOND TIME?
On December 9th, Chen Wei-Ting of Sunflower Movement fame announced his plans to run for legislator of his native Miaoli. A recent poll conducted by TVBS week suggests that Chen would be victorious in elections. But what are we to make of that Sunflower Movement activists are now running for electoral positions? What would Sunflower Movement activists accomplish through running as political candidates and by way of participation in electoral campaigns?
柯文哲到底是怎麼涉入中國器官買賣的?
柯文哲醫師打了一場乾淨而光彩的選戰,在11月29日投票當天順利擊敗連勝文,成為16年來第一位非國民黨籍的台北市長。儘管如此,他在這場選戰中還有一個重大議題必須回應,才能給自己的新政一個好的開始。那就是,倘若真有其事,他在協助台灣病人取得從中國法輪功囚犯身上摘取的器官進行移植手術之中,究竟扮演了什麼角色?
HOW INVOLVED WAS KO IN THE CHINESE ORGAN TRADE?
Dr. Ko Wen-je ran a generally clean and honourable campaign that resulted in his defeating Sean Lien in the November 29 election to be the first non-KMT mayor of Taipei in 16 years. Nonetheless, there was one major issue that arose during his campaign that he needs to address in order to start off his administration on the right foot. Namely, what role did he play, if any, in helping Taiwanese patients obtain organ transplants harvested from Chinese Falun Gong prisoners?
SUNFLOWER SEEDS IN BLOOM?
It would seem the tides of Taiwanese electoral politics are turning, or are they? The past victory of opposition forces over the KMT in the nine-in-one elections held last Saturday came as a surprise, with independent candidate Ko Wen-Je triumphing over KMT candidate Sean Lien in vying for the position of Taipei mayor. But if past elections have been a victory, what remains is to demand more from all quarters. It is not merely enough to be satisfied with current set of circumstances. Only then will the demands of the Sunflower Movement stand any chance of realization.
SEIZING THE ELECTION MOMENTUM TO PLACE HUMAN RIGHTS AT THE TOP OF THE AGENDA IN TAIWAN
On Saturday, Taiwan held its first nine-in-one elections in which nine different types of positions were up for election throughout the country. While the election results show that the KMT is losing influence on local politics, this is only the opening act to the much more important election in 2016 for the presidency and the national legislature. Regardless of who runs in the elections in the end, the opposition must seize this momentum to place human rights at the top of the agenda in Taiwan again.
---
THE HUALON LABOR STRUGGLE
A MONTH OF LABOR DEMONSTRATIONS IN TAIWAN
Although as was to be expected, media was mostly preoccupied with nine-in-one elections, the past month in Taiwan has been one marked by no shortage of activity by organized labor. In particular, this was driven on by two groups: the Former Toll Collectors' Self-Help Organization and employees of Hualon Group. But if the past nine-in-one elections represent something new for Taiwanese politics, can new avenues of possibility be forced open for Taiwanese organized labor?
---
HONG KONG ONE MONTH IN
HONG KONG'S "NEW NORMAL"
As the Umbrella Revolution stretched on past one month, then over two months, the international news coverage which drew the world's attention to the movement has slowly dwindled. The fact that people both in and outside of Hong Kong have been continually asking themselves whether the Umbrella Revolution is over is, in fact, proof enough that it is not over. Yet if the Umbrella Revolution has already succeeded in transforming Hong Kong, it remains a salient question as to how it will end.
OCCUPYING IDENTITY?
New Bloom UK Editor Sam Sussman sat down with Hong Kong social movements researcher Larry Au to chat about the specifically Hong Kongese political experiences and traditions from which the movement developed its organizational and rhetorical strength. Larry is an M.Sc in Global Governance and Diplomacy at the University of Oxford, and previously researched Hong Kong social movements at Brown.
AN END TO HONG KONG'S "UMBRELLA REVOLUTION"?
Now approaching a month's duration, the series of protests which have rocked Hong Kong since late September have seen a series of events in the past week including attempts at negotiation between students and government, the breakdown of negotiations, continued police violence, and growing public sentiment against occupiers. But have we seen this before?
EYE OF THE STORM: DIAN DIAN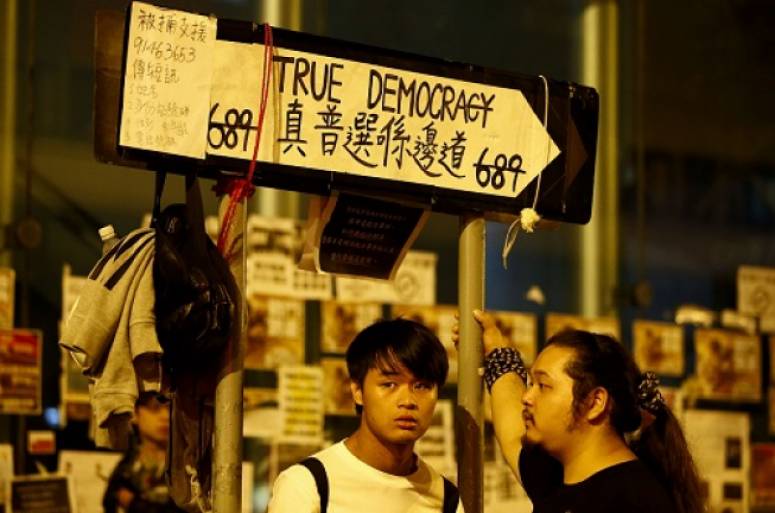 As part of our continuing Eye of the Storm: Voices from the Hong Kong Occupation series of interviews conducted by New Bloom with participants, organizers, and observers of the Hong Kong democracy movement, we interviewed Dian Dian, editor of the Queer Lala Times on October 9th.