---
2016 ELECTIONS IN TAIWAN
WHEN HEAVY METAL MEETS ACTIVIST POLITICS
Freddy Lim's concert held at Freedom Plaza in Taipei on December 26th has drawn international attention on the basis of the unusual nature of a political rally which was, in part, a concert by a heavy metal band. The concert was also to mark the twentieth anniversary of Chthonic. Though Freddy Lim is currently an electoral candidate of the New Power Party, Lim originally rose to fame as frontman of symphonic black metal band Chthonic. We may more broadly view this concert as expressive of the past two year's development of youth culture, aesthetics, and politics.
EMPTY TALK, BAD RHETORIC, FOLLOWED BY A SOCIAL MEDIA WAR
The two and a half hours of the first presidential candidate debate took place on December 27th. Given that polling shows Eric Chu and James Soong lag far behind Tsai Ing-wen, good faith and a miracle would be needed to assume the debate would turn the tables at all. So, unsurprisingly, this debate was largely empty talk.
ERIC CHU AND THE GHOST OF MA YING-JEOU
It is probably already clear that Eric Chu will not be the next president of Taiwan. Thus, rather than fret about the possibility of a Chu presidency which will not come to be, we might concern ourselves with why exactly Eric Chu is running in the present. Because it appears as though Eric Chu does not offer anything substantially different than Ma Ying-Jeou, in spite of the past year's backlash against Ma's policies. And there may be a reason for that.
TSAI ING-WEN AND THE LONG SHADOW OF CHEN SHUI-BIAN
Even if it may be that Tsai's victory in the present seems all but inevitable, Tsai faces certain uphill challenges once president. Such challenges ultimately stem from international perceptions of the first DPP presidency under Chen Shui-Bian. The DPP is still seen as a dangerous troublemaker that threatens to disrupt cross-strait relations on the basis of its ideological pro-independence fanaticism on the basis of Chen Shui-Bian's presidency.
WHY HAS THERE BEEN AN UPSURGE OF LABOR DEMONSTRATIONS BEFORE 2016 ELECTIONS?
A recent wave of labor protests in Taipei seems to be timed to coincide with 2016 elections. Workers are quite deliberately demonstrating in Taipei before elections, in order to make the public pay attention. Workers' voices are largely marginalized from mainstream politics—by KMT and DPP alike.
THREE THINGS WESTERN COMMENTATORS HAVE MISSED ABOUT THE KMT IN 2016 ELECTIONS
Is Taiwan a "democracy"? Certainly, few would deny that Taiwan is more democratic than it was in the past, as compared to the era of authoritarian rule by the KMT. Nevertheless, much has passed by western commentators in regards to the democratization of Taiwan. It is quite often assumed that post-democratization, the KMT has become a "normal" political party, analogous to any other party functioning in a two-party political system.
MORE EMPTY RHETORIC AT THE SECOND PRESIDENTIAL DEBATE
The second Taiwanese presidential debate took place on Saturday, January 2nd 2016, with Eric Chu, Tsai Ing-Wen, and James Soong once again squaring off, less than two weeks before elections. But, as with the first presidential debate, the occasion was largely an occasion for grandstanding and attacks. Given that a Tsai presidential victory seems all but certain, perhaps it is such that we can understand Chu and Soong's behavior in the debate.
AESTHETICS AND POLITICS IN 2016 PRESIDENTIAL CAMPAIGN ADS
Recent campaign ads by Chu and Tsai are revealing of the priorities of the KMT and DPP in the current presidential election. In examining these ads, we can point to how both parties are aiming at appealing to certain target demographics, particularly young voters. The DPP has largely been more successful the KMT in this regard.
THE KMT ATTEMPTING TO STIR UP INTERGENERATIONAL CONFLICT?
A recent video uploaded by the KMT on Facebook focuses on the idea of intergenerational conflict. Recent events that have occurred in Taiwan, mostly issues that rose out of the Sunflower Movement led by students, are framed in the ad as an attack against those of the older generation. Why would the KMT attempt to provoke intergenerational conflict?
LESSONS FOR TAIWAN 2016 FROM HONG KONG'S "UMBRELLA SOLDIERS"?
Many parallels have been drawn between Taiwan and Hong Kong by individuals have since the 2014 Sunflower and Umbrella Movements. But as we enter 2016 elections in Taiwan, we might draw further parallels between past November local elections in Hong Kong and Taiwan 2016 elections in regard to Taiwan's "Third Force" and Hong Kong's "Umbrella Soldiers." Namely, both phenomena are elements of post-Sunflower movement civil society in Taiwan and post-Umbrella movement civil society in Hong Kong entering electoral politics. Do the "Umbrella Soldiers" offer any lessons for Taiwan's "Third Force"?
MA YING-JEOU STICKERS ARE RUINING THE KMT's 2016 ELECTION CAMPAIGN
A sticker campaign has become the scourge of the KMT, with KMT legislative candidates having already reported dozens of citizens to the police for "defacing" their campaign material with the new stickers. The sticker consists merely of an endorsement from current President Ma Ying-jeou, and from Jennifer Wang, the KMT Vice-presidential candidate. As KMT legislators are facing their toughest re-election battles in Taiwan's democratic history, KMT legislative candidates are doing everything they can to ensure their victory, including disassociating themselves from Taiwan's lame-duck president, Ma Ying-jeou, and Eric Chu's VP choice, Jennifer Wang, who has been embroiled in a housing speculation scandal for over a month.
THE LAST PRESIDENTIAL DEBATE
The third and final presidential debate, like the first two, was largely a non-event. The debate serves as the last parting shot between the three presidential candidates before election day itself, but the race is not a close enough one that the debate has any way of changing the outcome of the election. Although a Tsai presidency seems all but certain, what Chu and Soong are capable of doing at this point is eroding away Tsai Ing-Wen's support base. Thus, it may be logical to focus primarily on Tsai's comments during the debate.

那些背對我們的男人:五年級與七年級的「世代對立」
總統大選在即,中國國民黨《五年級生》的競選影片,以悲情沈默的中年男人背影道盡五年級生對於青年世代的不滿,以及面臨各方面批判的委屈,似乎刻意勾起台灣經濟成長時的豐功偉業,藉此塑造與年輕族群的世代對立。身為解嚴後的七年級生,雖可體恤當年受兩蔣專政風氣下壓抑成長的上一代,是如何為求生存而保持沈默並服從,但這類炒作出的世代對立論述,說穿了不過是掌權者操作特定年齡層的刻板印象,進而忽略反抗的聲音,與跟著時代不斷改變、接納新文化的人們。競選影片中的中年男人背影,其實並不代表整體五年級的生命經驗,而是深化國民黨那不顧現實推進、深陷於歷史自我感覺良好幽魂的自身縮影,更加凸顯權力階級與普羅大眾的價值落差。
WHY IS THE VOTING AGE IN TAIWAN SO HIGH?
After reform measures passed in Japan this summer to lower the voting age to eighteen, among Asia-Pacific countries, Taiwan will remain as having a relatively high voting age. Like Japan's voting age before recent reform measures, Taiwan's voting age is twenty. Taiwan's voting age of twenty compares to a voting age of eighteen in 90% of 190 countries. Why is voting age so high in Taiwan and why have efforts at reform been stymied?

WHICH WAY FORWARD FOR THE THIRD FORCE?
The Third Force adopted an electoral strategy which did not seek to directly challenge the DPP. But despite some parties vowing to avoid cooperation with the DPP, in the end this happened. What does this mean for the Third Force? Is there the possibility that the Third Force might turn on the DPP in the future?

THE RACE FOR PARTY VOTES
In this upcoming election, voters will be entitled three votes, namely the presidential, district, and the party vote. The presidential vote and district vote usually took precedence in past elections, but in this upcoming election, party votes seem to have taken the spotlight. What exactly then is the party vote? The party vote largely decides the total number of seats each political party gets in the legislative.
THE THIRD FORCE AND THE QUESTION OF TAIPEI-CENTRIC POLITICS IN 2016 ELECTIONS
In particular, the rise of new parties originating in youth activism—the so-called Third Force—has been a Taipei centered phenomenon. Though there are non-Taipei based candidates, Third Force political candidates are quite often running in Taipei, despite the fact that Taipei is historically pan-Blue. Taipei has been for the most a pan-Blue stronghold, although this depends on district. Why run in Taipei? What are the stakes of doing so?
勇武E台灣郎,再加點油
極右派來了。更精確的說,是極右派又來了。極右派在台灣的選舉並非第一次出現,90 年代起存活至今的新黨即為適例。如今,另一股極右派勢力亦組黨正躍躍欲試想進入國會。只是這次的極右派不若新黨以中華民族主義為號召,而是以台灣民族主義為號召。
AESTHETIC AND POLITICAL EXPERIMENTALISM  IN 2016 ELECTION CAMPAIGNING BY THE DPP AND THIRD FORCE PARTIES
It may be interesting to note the biggest winners of 2016 elections will probably be those political parties who were most aesthetically effective, as well as inventive, in their approaches to political campaigning. As should obvious at this point, it will be the DPP that takes the presidency under Tsai Ing-Wen. Moreover, of the Third Force parties, it will likely be the New Power Party which wins the most.
THE TPP, RCEP, AND THE QUESTION OF FREE TRADE AGREEMENTS FOR TAIWAN UNDER A TSAI PRESIDENCY
Why is it that Tsai Ing-Wen supports not only joining the American-led TPP but also the China-led RCEP? What would the implications of signing free trade agreements in general be for Taiwan? Seeing as Tsai Ing-Wen will likely be next president of Taiwan, likely it is due time to start discussing Tsai Ing-Wen's policies on free trade.
WHERE DID IDENTITY POLITICS GO IN THE 2016 PRESIDENTIAL ELECTIONS?
Did identity politics simply disappear in 2016 elections? Not so. But we do see a change in Taiwan's political landscape as reflected in the lack of overt forms of identity politics in elections. But, interestingly, it is the KMT now which attempts to raise older identity politics in order to disguise its class interest.
LEFTISM FIRST OR INDEPENDENCE FIRST IN 2016 ELECTIONS?
As we approach elections, currently a debate is raging among Taiwanese activists. What is at stake is the question of whether Taiwan should first aim at "Independence" then leftist aspirations or first aim to be "Left" before aspiring towards independence. In part, this debate reflects that present elections are different from past elections, with the rise of numerous "Third Force" parties that originate in civil society and provide a variety of political choices for activists. This would certainly differ from past elections in which there would seem to be few choices besides KMT and DPP and smaller parties offering different shades of pan-Green and pan-Blue.
THE TIME IS NOW
This weekend, the Taiwanese working class will once again find itself in the midst of a tremendous change without playing any role in it. The presidential election of 2016 will mark another pivotal point in Taiwanese history, not as a victory of the working class, but as a turn in the bourgeois politics of Taiwan. While the defeat of the KMT in both the presidential in the parliamentary election is exciting to imagine, a DPP victory would make very little difference to the working people of Taiwan.
蔡與朱政策對比
大選前夕,破土特別為大家整理了蔡英文跟朱立倫的政見,供各位參考。
Policy Comparison Between Tsai Ing-Wen and Eric Chu
The day before elections, New Bloom presents a policy comparison of the policies between Tsai Ing-Wen and Eric Chu. Check it out!
時候到了:台灣總統大選的最後階段以及大型勞動政黨的迫切需要
這個週末,台灣的勞動階級將再次的身處於他們無法控制的劇變之中。2016 年的台灣總統大選將標誌著台灣歷史的一個新的樞紐,是我國資產階級政治的轉折點,而非勞動大眾的勝利。
SDP'S CHEN SHANG-CHIH ELECTION ADS GO VIRAL
By all appearances, Taipei Legislative candidate Chen Shang-chih is a mild-mannered, bookish professor. He has a deliberative speaking style that seems more suited to a life of academia, than for a candidate running for a seat in Taiwan's Legislative Yuan formerly owned by notorious rumour-mongering KMT legislator Alex Tsai. But a series of new Facebook campaign videos has put Chen in the media spotlight by cutting through his seemingly shy demeanour to reveal a gift for deadpan comic delivery that is unique for a legislative candidate.
高潞。以用 Kawlo Iyun:為原住民及花東議題發聲的立委候選人
高潞・以用是個以土地權及原住民權益為出發點,進行思考並擬訂對策的候選人。她參政最重要的一個轉捩點,便是2011年,民國100年,她協助成立了Pangcah阿美族守護聯盟,並在土地議題上,做「土地百年戰役」及「愛狗樂園」這兩個事件的抗爭。
國族霸凌與國旗謊言:周子瑜的蒼白與憔悴
周子瑜的道歉影片在昨天(1/15)發佈之後,台灣社會輿論用「炸開了」來形容也不為過。影片中的周子瑜,在經紀公司刻意營造的弱者形象之下,蒼白的臉龐和憔悴的神情唸著道歉文稿。一個 16 歲台灣少女,在鏡頭前深深一鞠躬,並說出「中國只有一個,海峽兩岸是一體的,我始終為自己是一個中國人而感到驕傲」。這樣的影像、這樣的文字,不僅讓人感到受辱,更激怒了大多數台灣人民。
Last Words on 2016 Elections
When we look back on 2016 elections, will we find that it in the end it was just a choice between Pepsi and Coca-Cola, between two brands, in choosing between the KMT and DPP? Today, on the day of elections, we might think deeply on this fact.
What Happens Now That Tsai Ing-Wen Is President?
What should we we expect from a Tsai presidency, now that Tsai Ing-Wen is president of Taiwan?  Now may be a time of celebration and rightly so, but perhaps we should not hope for too much?
HARD CHOICES FOR TSAI ON FOREIGN AFFAIRS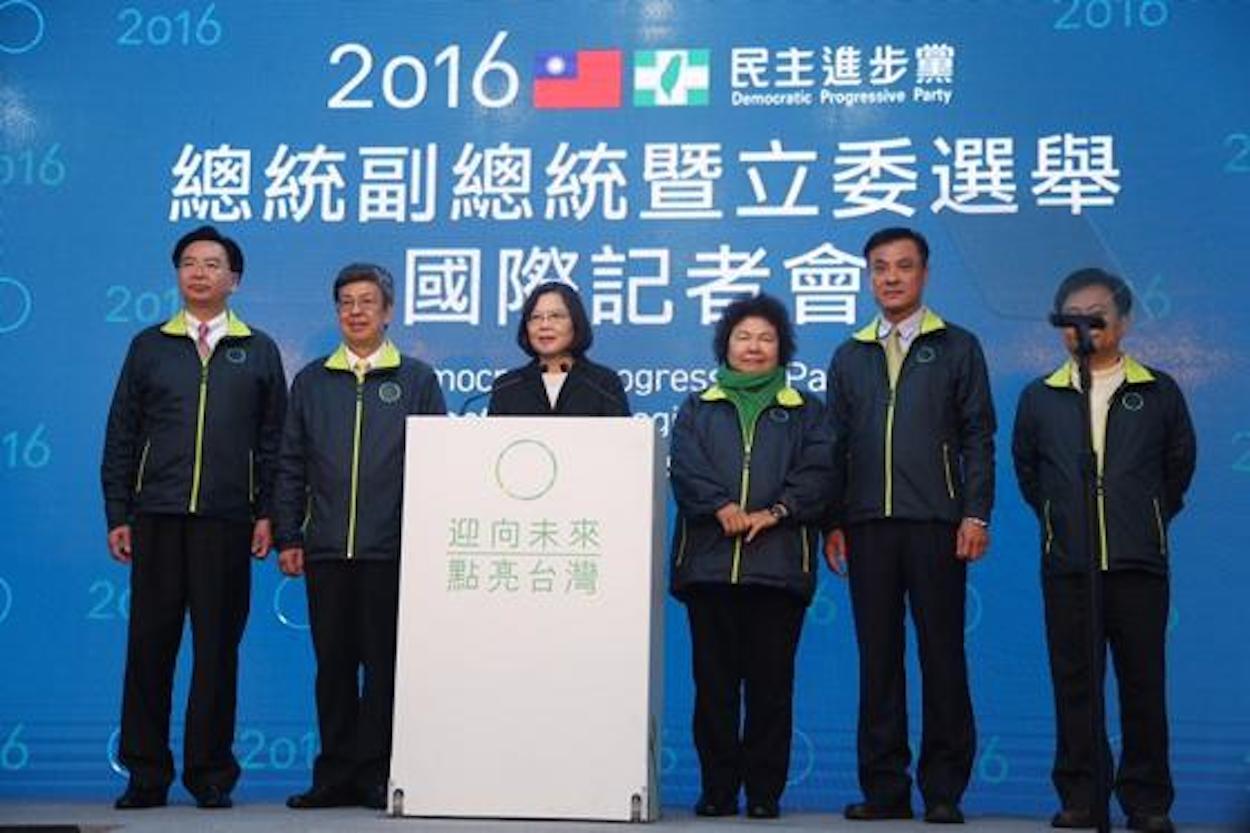 It is time to start looking ahead to the impact that the Tsai presidency will have upon Taiwan's international relationships with nations in the Asia Pacific, as well as how her administration will figure into larger geopolitical trends.
WHO ARE THE WINNERS AND LOSERS OF 2016 ELECTIONS IN LEGISLATURE?
If most international attention has focused on Tsai Ing-Wen's victory over Eric Chu in presidential elections, who were the winners and losers of legislative elections? Does the overwhelming victory of the DPP over the KMT and the unexpected successes of the New Power Party foretell future trends in Taiwanese electoral politics?
IS THE NARRATIVE ABOUT TAIWAN CHANGING AFTER TSAI ING-WEN'S PRESIDENTIAL VICTORY?
Is the narrative about Taiwan changing after Tsai Ing-Wen's presidential victory? We might note that, to date, there have at least not been very many foreboding warnings about Tsai guiding Taiwan in the direction of Taiwanese-independence and possibly provoking cross-strait conflict. Rather, news coverage to date has focused largely on Tsai as the first female president of Taiwan, that Tsai pledges to maintain cross-straits stability and is an unorthodox politician, a "female academic who loves cats and supports gay rights" as the title of a recent article stated.
THE FALL OF THE KMT?
The recent defeat of the KMT was unprecedented, seeing as the KMT has never lost control of the legislature, if the KMT lost control of the presidency during the eight years of Chen Shui-Bian's presidency. Now it has lost both the presidency and legislature. And the KMT remains only in control of 35 out 113 legislative seats and six out of twenty-two of Taiwan's counties and cities. What will happen now with the KMT? Maybe, as Nietzsche said, when you see something about to fall, you should give it a push.
TSAI AND THE SUNFLOWER GENERATION
Can we trace the victory of Tsai Ing-Wen for president and the overwhelming victory of the DPP in legislature back to the Sunflower Movement? Both yes and no. Tsai invoked the abstract idealism of the Sunflower generation in her campaign quite often, but where the views of civil society can sometimes be inchoate or not totally thought out, this offered a convenient way of masking Tsai's own lack of concrete policy. Yet if Tsai then turns her back on what youth activists of the Sunflower generation stand for, they would understandably feel betrayed.
HOW WILL THE US AND CHINA REACT TO A TSAI PRESIDENCY?
How are we to understand Chinese and American reactions to Tsai Ing-Wen's election as president of Taiwan? Is it that America will perceive Tsai as a dangerous pro-independence ideologue? And despite its invectives against Tsai, does China really perceive Tsai as bent on Taiwanese independence?
THE CHOU TZUYU INCIDENT AND ENTERTAINMENT AS A SITE OF CONFLICT ABOUT NATIONAL IDENTITY
A video of 16-year-old Taiwanese K-pop performer Chou Tzuyu unexpectedly went viral in Taiwan the day before 2016 presidential elections. In the video, Chou apologized for a previous online video in which Chou held the flag of the Republic of China—the name by which Taiwan is internationally known. In the video, Chou apologized for her transgressions, stressed that she was Chinese as well as the unity of a singular China. The video was released on January 15th, the day before 2016 presidential elections in Taiwan on January 16th.
IMPLEMENTING A CRIMINAL JURY TRIAL SYSTEM IN TAIWAN
Tsai Ing-wen's judicial reform platform stresses citizen participation in the judiciary through jury trials. What does this mean for judicial reform in Taiwan?
WHAT TO DO WITH THE KMT'S PARTY ASSETS?
What to do with the KMT's party assets? This has been a question which has persisted from the first DPP administration under Chen Shui-Bian up until the present. And that no satisfactory method of resolving the question of what do about KMT party assets reflects that there is still no satisfactory answer of how to resolve questions of lingering authoritarianism by the KMT.
---
THE THIRD POLITICAL FORCE IN TAIWAN
INTERVIEW: FREDDY LIM (林昶佐)
On July 9th, in New York City, New Bloom interviewed Freddy Lim of the New Power Party and lead singer of the famed black metal band Chthonic. This is part of an upcoming series of interviews New Bloom is conducting with members of third parties in Taiwan.
採訪:FREDDY LIM (林昶佐)
破土的編輯之一楊進於七月九日採訪了時代力量立委候選人及閃靈樂團主唱林昶佐。
INTERVIEW: TSAY TING-KUEI (蔡丁貴)
On May 2nd, New Bloom sat down with Dr. Tsay Ting-Kuei in New York City, for an interview about the formation of the Free Taiwan Party. Hioe and Tsay then met up again in late July in Taipei, during the Ministry of Education occupation,  for some follow-up questions. This was our second interview with Tsay, the first was conducted in December of last year, also in New York City.
INTERVIEW: JENNIFER LU (呂欣潔)
In early April, New Bloom interviewed the Social Democratic Party's Jennifer Lu by Skype.This was our second interview with Jennifer Lu, we first interviewed her in August of 2014.
INTERVIEW: LEE HSING-CHANG (李幸長)
In late August, New Bloom interviewed social movement veteran Lee Hsing-Chang about his campaign for Taiwan's Legislative Yuan. Lee is running as an independent candidate in New Taipei City District 9, a traditional stronghold for the KMT. Lee has fought for housing justice for over 25 years, and advocates for affordable housing as a basic human right.
INTERVIEW: WUER KAIXI (吾爾開希)
In early August in Taipei, New Bloom interviewed Wuer Kaixi, longtime democracy activist and Chinese dissident known for his leadership in the 1989 Tiananmen Square protests. After studying in America, Wuer Kaixi later moved to Taiwan, where he became known as a political commentator. Wuer Kaixi recently announced that he would be running for legislator in Taichung as an independent.
專訪:苗博雅
提起「苗博雅」這個名字你一定不陌生,無論是從太陽花運動、婚姻平權、廢除死刑等,他總是站在社會議題的浪頭上,不畏懼地在各種意見平台上表達自己的立場與論述。2015年,苗博雅決定代表社會民主黨參選台北市文山區的立委選舉,他期許自己能為台灣的國會帶來不同選擇。談起他自己走上政治一途的種種,即使年僅28歲,苗博雅卻有著過人的沈穩,以堅定的口吻說出自己相信的價值,以及能為台灣帶來改變的決心。
專訪:黃國昌
8月6日,《破土》編輯丘琦欣訪問了時代力量的黃國昌,他是前中央研究院研究員,也是太陽花運動的領導者之一。過去這一年來,他積極參與成立時代力量,並將代表時代力量在汐止選區競選立法委員。
INTERVIEW: HUANG KUO-CHANG (黃國昌)
On August 6th, New Bloom's Brian Hioe interviewed Huang Kuo-Chang of the New Power Party. Huang Kuo-Chang, formerly a professor at Academica Sinica, was one of the lead figures of the Sunflower Movement. In the year since, he has actively been involved in the formation of the New Power Party and will be running for legislator in Xizhi as a candidate of the New Power Party.
小資女孩前進國會
—

—

洪慈庸專訪
洪仲丘事件,改變了洪慈庸的人生規劃,在 Freddy 鍥而不捨地邀約之下,洪慈庸決定加入時代力量,希望不受大黨派規定所左右,能夠和一群夥伴一起奮鬥,共同創造一個理想環境。
專訪:堅持做對的事—時代力量邱顯智與陳為廷(上)
柯建銘選擇回到新竹市參選立法委員,強碰時代力量參選人邱顯智律師及邱律師所帶領的團隊。正因如此,邱顯智律師瞬間成為最常被放在媒體版面上討論的立委參選人。從洪仲丘案、關廠工人案、鄭性澤冤錯案,到 318 反服貿社會運動參與者的義務辯護律師,邱顯智律師過去曾被稱為「免費的王牌律師」。這位來自嘉義奮起湖長大的鄉下人,一路苦讀到海德堡大學法學博士候選人,他過去擔任過台灣人權促進會會長,免費幫助社會底層、社會弱勢發聲的正義律師。他為什麼願意一股腦栽進政治圈中?為什麼期盼自己能代表新竹市民擔任立法委員工作一職?破土 New Bloom 在 2015 年 8 月 30 號,趁邱顯智律師及競選總幹事陳為廷先生赴美東訪問,從紐約至紐澤西演講的途中,專訪兩位。
第三勢力新竹市立委參選人邱顯智律師與陳為廷總幹事專訪(下)
從 2012 年反媒體壟斷運動,經歷過反苗栗大埔徵收抗議…到 318 反服貿運動,陳為廷先生在許多重要社會議題上、為底層社會發聲的社會事件上,每場幾乎無役不與。但即使如此,陳為廷先生也是個爭議性的人物。2016年立法委員選戰中,318 反服貿社會運動中的社運知名人士陳為廷在邱顯智律師的極力邀請下出任邱顯智律師的競選總幹事。破土 New Bloom 在 2015 年 8 月 30 號,趁著邱顯智律師以及他的競選總幹事陳為廷先生到美東訪問時,在兩位從紐約至紐澤西的路途中,對兩位進行專訪。
專訪:樹黨
本篇訪問由破土編輯丘琦欣進行,採訪了樹黨的兩位參選人陳家宏與潘翰聲。
INTERVIEW: TREE PARTY (樹黨)
In early August, New Bloom editor Brian Hioe interviewed two candidates of the Tree Party, Laurence Chen and Pan Han-Sheng.
INTERVIEW: HUNG TZU-YUNG (洪慈庸)
The Hung Chung-Chiu Incident changed Hung Tzu-Yung's 's life plans. After Freddy Lim's tireless recruiting efforts, Hung decided to join the New Power Party. She hopes to avoid the the major parties' regulations and work with her partners to create an ideal environment. She is running for legislator in Taichung District 3. The following interview was originally conducted in late October.
INTERVIEW: MIAO POYA (苗博雅)
A familiar name in Taiwanese activist circles, Miao Poya has stood at the forefront of social movements, expounding her views on issues ranging from the Sunflower Movement, to marriage equality, or to the abolition of capital punishment. This year, Miao decided to throw her hat into the ring for the 2016 legislative elections, standing as a candidate for the newly-founded Social Democratic Party in Wenshan District in Taipei City, and aiming to become an alternative to the political establishment in the legislature. 
INTERVIEW: CHIU HSIEN-CHIH (邱顯智)
For 2016 legislative elections, DPP minority whip Ker Chien-Ming decided to return to Hsinchu to run for legislator, coming into conflict with the New Power Party candidate Chiu Hsien-Chih and his campaign team. As a result, Chiu Hsien-Chih's campaign has been hotly discussed in the media as an occasion in which the Third Force runs up against the DPP. New Bloom interviewed Chiu during his speaking tour of America in late August.
INTERVIEW: CHEN WEI-TING (陳為廷)
From the anti-media monopoly movement in 2012, through the Dapu incident in Miaoli, to the Sunflower Movement, Chen Wei-Ting has in many important social movements for the sake of society, participated in every activity. But even so, Chen Wei-Ting has been a controversial figure. In the middle of the battle for 2016 legislative elections, the famous Chen Wei-Ting of the Sunflower Movement was requested by Chiu Hsien-Chih to be his campaign manager. New Bloom took the opportunity to interview Chen during Chiu Hsien-Chih's visit to the US on August 30th.