Welcome to the Daily Bloom! The Daily Bloom will be a daily shortform blog with updates on the day's political going-ons. If something particularly exciting happening in Taiwan, we will be providing live updates on our Facebook page and Twitter account. At the end of the day, we will compile the live updates to provide a chronological timeline of the day's events. If not, we will simply report on what happened that day, or what might be of note that happened. If you have news tips about what would be interesting to cover, send to [email protected]!
July 4, 2014
Five arrests of prominent Occupy Central leaders were made in Hong Kong in regards to the July 1st protest marches. Is this the beginning of a crackdown? It is, of course, far too early to tell, but one can certainly expect reprisals in the near future.
Former Taiwanese President and founder of the TSU, Lee-Deng Hui, praises Japan's repeal of Article 9 as a step towards regional stability through cross American-Japanese cooperation. Of course, though Lee Deng-Hui was certainly a key figure in the history of Taiwanese democratization, this does not bode well in consideration of that the repeal of Article 9 was largely driven by Japanese far-right wing ultra-nationalists and popular protest against Article 9's repeal involving up to 40,000 in the streets of Tokyo, as sparked by a man's attempted self-immolation.
Amis Aboriginal singer Ayal Komod, also known as Chang Chen-yue (張震嶽), a recent winner of the Golden Melody award, reacts against plans by the Taiwanese Tourist Bureau to bring Chinese tourists to watch Amis traditional festivals on Facebook, criticizing that the cultural heritage of the Amis was being made into a spectacle for tourists. Later on, on July 3rd, an activist group called the Indigenous Youth Front (原住民族青年陣線) held a demonstration action in the Tourist Bureau. This was complete with a faux-sightseeing expedition "touring" the Tourist Bureau and a tour guide satirically explaining the actions of office workers as though it were some inscrutable, exotic form of ritual.
Japan reacts against against Chinese-South Korean joint commemoration of the 70th anniversary of Japanese defeat in World War II. Again, very likely this is a reaction to the repeal of Article 9, and a warning from Beijing and Seoul that increased Japanese aggression may face joint alliance and a sign that ties between Beijing and Seoul are becoming closer.
Director Midi Z. (趙德胤)'s Taiwan-produced film, Ice Poison (冰毒), wins best film at the Edinburgh International Film Festival, the first Taiwanese produced film to do so. In public comments, Midi Z. stated that the freedom of Taiwanese filmmaking had been a factor in his success. While awarded a prize by the Taiwanese Ministry of Culture for his success in competition after the fact, of course, Taiwan-produced cinema has seen a decline since the signing of trade agreements which led to an influx of Hollywood produced films that flooded the market, as reflected in the decline of the "Taiwanese New Wave."
Today was the last day of the Legislative Yuan's Special Legislative Session broadly aimed at resolving recent "turmoil" about the CSSTA trade bill and the creation of special economic zones within Taiwan. Yet if there were protest actions, none caught the public eye. As the crisis of Taiwanese democracy seems far from over, very apparently, there will be protest sooner or later—and rest assured, New Bloom and Daily Bloom will be there to cover it.
July 5 and 6, 2014
Yesterday was the one year anniversary of the suicide of a pharmacy owner, 張森文,in Dapu, near Miaoli, after his pharmacy was forcibly torn down. Miaoli has been the site of prominent anti-gentrification actions in regards to housing evictions for commercial develop in recent years, often involving high numbers of student participation.
A memorial concert for Chen Wen-cheng was held at Civil Service Development Institute in Taipei on Saturday evening. Chen Wen-cheng, a professor at Carnegie Mellon University and a democracy activist, was found dead in July 1981, his body dumped on the campus of NTU. Chen had been previously taken in for questioning by the police and no investigation of his death was ever resolved. Students recently proposed naming a square on campus after him, a request eventually agreed to by the university president.
In response to a proposal by China to be a sponsor in the "Asia Infrastructure Investment Bank" which China intends to establish this fall, Japan expresses reluctance to join. As of June 10, the number of participating countries is 22, but major powers in the region as Japan and South Korea have not joined. According to officials, the US has applied pressure on South Korea behind the scenes to prevent it from joining. India has also not joined. It is thought China is attempting to increase its economic influence in Asia in order to counter American influence.
The Control Yuan declines to investigate police violence surrounding the attempt by student activists to occupy the Executive Yuan on March 23rd. This comes despite the heavy media attention that the use of police violence drew at that point in time.
July 7, 2014
Former chairperson of the DPP, Lin Yi-Hsiung, announces the formation of the People Rule Foundation aimed at legal reform to further Taiwanese democratization. Aimed for reforms include amendment of the constitution and repeal of the so-called "birdcage" Referendum Act, often criticized for having impossibly high standards for public referendum. Immediately following the end of the student occupation of the Legislative Yuan during the Sunflower movement, Lin Yi-Hsiung's hunger strike against nuclear power subsequently drew in much of the energy that had been directed towards the CSSTA issue since then.
Along the same vein, on July 6th, members of the Taiwan March group formed by prominent Sunflower movement student leaders Lin Fei-fan and Chen Wei-ting, held a protest in in Taipei also aimed at repeal of the Referendum Act. In comments, speakers pointed to the limitations of Taiwanese democracy in its present form. If one is to speculate as to future shifts in Taiwanese activist politics in the near future, while the Referendum Act has been controversial since its passing in 2003, it appears that legal reform of the Taiwanese democratic system may become the new orienting paradigm. It will be a question, then, how the DPP's response will be in regards to upcoming elections. Notably, legal reform of Taiwanese democracy would seem to have the backing of student activist groups coming out of the Sunflower movement, but also electoral oriented activists not part of the DPP or KMT camps alike. In the case of Lin Yi-Hsiung, Lin is former chairman of the DPP, but left the DPP in 2006, and subsequently was involved in the formation of the Taiwan Citizen Union political party aimed at challenging both the DPP and KMT in March of this year.
Conflict over Taiwan's relation to the repeal of Japan's Article 9 continues with the possibility of Japanese military force as countering Chinese aggression towards China attendant with forebodings of potential increased Japanese militarism in the region. Pro-independence Taiwanese think tank Taiwan Brain Trust voices approval of Article 9's repeal, while Taiwanese academics including professors from Fu Jen Catholic University, Tunghai University warn that a Japanese military no longer straightjacketed by Article 9 from foreign intervention may not necessarily be beneficial to regional stability. A protest was also held in front of the Japanese Interchange Office today by the Labor Party against the repeal of Article 9, though this was on pro-China, anti-Japan grounds.
With the inability of the Special Legislative Session held in the legislature to resolve the issue of appointments to the Control Yuan and trade policies criticized for rendering Taiwan vulnerable to Chinese domination, the KMT calls an extra session to be held from July 28th to August 8th. The previous Special Legislative Session had been held from June 13th until July 4th.
July 8, 2014
According to a Washington Post article, "China's rise and Asian tensions send U.S. relations into downward spiral", we may be facing "what may be the most worrying deterioration in U.S.-China relations in decades." Indeed, perhaps hyperbolic, but while Washington has not taken clearer stances in regards to China except its Asia Pivot, which is quite possibly interpreted by China as an attempt to apply Cold War style policies of containment to it; certainly, such policies may prove aggravating to regional stability. The same article cites Robert Ross, a political professor at Boston College, as stating, "East Asia today is less stable than at any time since the end of the Cold War."
Perhaps backtracking on recent aggressive Chinese response to the repeal of Article 9, Japanese prime minister Shinzo Abe claims that Japan and China are "inextricably tied" and that dialogue remains open. In the meantime, in Taiwanese foreign affairs circles, Taiwanese academic Doong Sy-chi suggests that Taiwan keep an eye on South Korea's recent movements in shifting closer to Beijing because of strained ties with Beijing. While there has been much discussion of Taiwan's relation to Japan following the repeal of Article 9, there has been less discussion of Taiwan's relation to South Korea.
Academia Historica announces the publication of a series of books detailing the ROC government's role fighting the Japanese during the Sino-Japanese War, as we approach the 70th anniversary of the end of World War II and Chinese victory over the Japanese. Of course, to the extent that Academica Historica is the top-level organization in charge of official records of Taiwanese history, one can only point out the means by which this depiction of history will inflect "official" narratives.
July 9, 2014
Taiwan listed as second safest country in the world by American website lifestyle9.com, supposedly according to statistics by the FBI. The ranking was hailed by an Executive Yuan spokesman Sun Lih-qun in public comments as encouraging to government efforts at maintaining public safety. Japan was ranked first, followed by Taiwan, Hong Kong (of course, not actually a "country" but a "Specially Autonomous Region"), South Korea, the UAE, Malta, Luxembourg, Georgia, Bahrain, and Singapore. Yet it remains unknown as to why an Executive Yuan spokesman would cite an almost entirely unknown American website with shoddy citations for its rankings and your discriminating political commentator might point out the lingering history of authoritarianism in many of the countries cited. Of course, one can point to this as an example of the sheer desperation of the Executive Yuan scrambling around for soft power and also to that, notably, of the East Asian countries, China was not on the list.
Former premier of the ROC and four-star general in the ROC army Hau Pei-tsun comes under fire for singing the PRC national anthem, "March of the Volunteers," during an interview on Chinese state-run television network Chinese Central Television. Hau, born 1919, sang the anthem when asked if he remembered it from its origins in the Sino-Japanese War. Nevertheless, as remarked by DPP legislator, Chen Chi-mai, singing the PRC national anthem was punishable by death in Taiwan during the Martial Law period. Although, to be fair, Hau is well over 90 years old, one can only speculate as to what Hau's intentions were in singing it. Hau is father of current mayor of Taipei and vice-chairman of the KMT, Hau Ling-pin.
Academica Sinica researcher Chen Lan-bo claims that the Sunflower movement was beneficial to the Taiwanese biotech industry because the CSSTA trade bill would have produced detrimental to the Taiwanese biotech industry, also pointing to high investment during the height of the movement and the raising of the GDP growth forecast during the movement. Perhaps, but it might also be pointed out that behind the Sunflower movement lurked the question of what Taiwan's economic relations to China would be in the future in an future era perhaps defined by Chinese economic power—this was something freely remarked upon during the movement by student protestors themselves, who often during demonstration speeches pointed to their own lack of economic expertise but their ability to ascertain that the CSSTA trade bill would not be beneficial to Taiwan's future. Indeed, it was certainly not as though there were a corps of student economists behind the actions of the Legislative Yuan occupiers, but these broader questions of Taiwan's role in the international socioeconomic, geopolitical sphere remain to be worked out.
July 10, 2014
Activist Peter Wang, who threw a shoe at Ma Ying-Jeou last year during a speech last year and had been previously found not guilty for infringing upon the Assembly and Parade Act last month, has his sentence appealed by prosecutors. Wang had been previously found not guilty on the basis of that his shoe-throwing had not managed to interrupt Ma's speech. As Wang's shoe throwing act had been lauded by activists and was inspiring of other shoe throwing acts at government officials, one can speculate as the disciplinary message this is intended to send.
Tsai Ing-Wen declares that China will have to learn to deal with the DPP ahead of elections and Tsai's very likely own 2016 presidential run. According to some commentators, it is very likely that Beijing already expects having to accommodate the DPP in the future given the KMT's recent series of disastrous public relations failures attendant with, but also predating and antecedent to the Sunflower movement; indeed, it can even be said that Beijing was more responsive to the Sunflower movement in its initial stages than the KMT itself was. Nevertheless, what remains opaque is if the United States will learn to deal with the DPP; Tsai Ing-Wen famously was discredited during her 2012 presidential run when a anonymous source from the US State Department (although there is speculation that this was, in fact, the White House) informed the Financial Times of the Obama administration's doubts about her ability to handle foreign policy with China. Yet as some DPP members have been in recent times, in fact, attempting to improve ties with the DPP, one can also speculate as to what this more broadly signifies within the DPP's own inter-party politics.
A survey conducted by the Pew Research Center suggests that 72% of young Americans favor stronger economic ties with China, whereas only only 23% suggest a more aggressive American economic stance towards China. This compares to a 2012 survey, in which 42% favored stronger economic ties, and 49% favored a stronger economic stance towards China. How will this bode when current US foreign policy favors a stronger foreign policy stance towards China and as Chinese economic power asserts itself towards other nations in the region as more broadly extending overall Chinese power? It is to be noted, the poll specifies stronger ties or a tougher economic stance towards China, rather just simply "stronger ties" or a "tougher stance". The poll also reveals that it remains American Republicans who favor a stronger stance, and historically it has been the Republicans who have favored US-Taiwan relations and a American stronger stance towards China overall.
July 11, 12, and 13, 2014
Reports: Taiwan using unmanned drones to surveil the Taiwan strait to prevent Chinese incursions: As reported on by the Liberty Times, AFP, South China Morning Post, and China Post, drones based in Taitung have now expanded surveillance to the Taiwan Strait.  Does this foretell increased tensions across the strait?  One may, of course, speculate as to reactions from China.  Nevertheless, the current question in the air is as to whether Taiwan will be integrated into American military strategies in the East Asian region broadly aimed at the containment of China in the near future—indeed, reports also suggest that America is interested in the drone program which began in March and currently numbers 32 drones.  The Taiwanese Ministry of Defense refused to comment on the matter, however.
Minister of Education Chiang Wei-Ting embroiled in controversy over academic fraud: The controversy in question stems from the withdrawal of of 60 papers published by Chen Chen-Yuan in the Journal of Vibration and Control by the publication earlier this month, on the basis of fraudulent reviews.  Chiang was listed as a co-author on five of these papers but, for his part, he claims that he was not aware his name was listed as a co-author on these papers.  Chiang, originally a civil engineering professor, was appointed Minister of Education in February 2012.
KMT Legislator Alex Tsai continues to court controversy, calling Sunflower student protestors "pigs": Tsai, always a controversial figure, previously courted controversy in regards to the Sunflower movement after an incident during April in which he did not stop his car for 1 KM when two protestors attempting to prevent him from leaving the Legislative Yuan premises became lodged on its hood.
President Ma Ying-Jeou throws support behind Sean Lien, currently running for Mayor of Taipei: Lien is the son of Lien Chan, former chairman of the KMT and vice president of Taiwan.  Critics, however, have often pointed to Lien's lack of any political experience.  This declaration of support comes after there having been rumors of factional rivalry in the KMT through which Lien and Ma found themselves at odds.  As there is a longstanding precedent of mayors of Taipei winning eventual presidency of Taiwan, this is not insignificant.
July 14, 2014
The 5000th 7-Eleven store in Taiwan opens in Kaoshiung last Friday. 7-Eleven opened its first store in Taiwan in 1979. Alex C. Lo, chairman of the Uni-President conglomerate that owns 7-Eleven, also known as the President Chain Store, said he would consider opening 7-Eleven in prisons in the future. In the meantime, the opening of a 7-Eleven on Orchid Island, causes controversy because of its threat of displacing local businesses. Indeed, while this is the latest chapter in the long saga of controversy surrounding Orchid Island, also known as Lanyu (蘭嶼), a nuclear waste disposal site. Yet the spread of convenience stores in Taiwan historically led to the displacement of family owned grocery stores once commonplace (雜貨店, literally mixed wares stores). Taiwan possesses the highest density of 7-Eleven stores in the world.
Taiwanese bookstore chain Eslite accused of removing books related to Tibet from Hong Kong stores. Details are unclear because Eslite employees are forbidden from speaking to press, yet the bookstore chain plans on expanding to Suzhou and Shanghai in the near future and so may have received pressure from the Chinese government. In the past, Eslite stores in Taiwan have been less restrictive on political dissent, however; following the ramming of a truck into the gate of the Presidential Residence in January of this year as an act of protest, a model display of the Presidential Residence set up in Eslite's Songyan store the following week featured a truck that looked as though it were posed to ram the gate. The arrangement of the model caused controversy and was initially ordered to be removed, before the order was rescinded.
The Singapore Court of Appeal, Singapore's highest court, hears appeals challenging its ban on gay sex. Section 377A, as the law is known dates to 1938, but the government claims it has not been actively enforced since the mid-90s. There has been cases of the censorship of depictions of homosexuality in the media, however, and 185 arrests made under Section 377A from 1997 to 2006. According to surveys, LGBTQ issues remain controversial among Singaporeans, although annual gay pride event Pink Dot brought out 26,000 last month, and has garnered the sponsorship of companies such as Barclays and Google.
A poll reveals approximately 70% do not trust the Taiwanese judicial system. 78% do not think there will ever be a independent judicial system. In addition, only 6.9% say that the KMT works for the interest of all Taiwanese, yet only 14.9% also thought that the DPP works for the interest of all Taiwanese. It would appear that faith in political parties remains low among Taiwanese yet, of course, no alternative appears yet in sight. The poll was conducted by Taiwan Indicators Survey Research.
July 15, 2014
DPP launches set of programs aimed at encouraging youth participation in politics. Announced by DPP chairwoman Tsai Ing-Wen, in comments Tsai cited that many of the senior politicians of the current DPP began participating in politics at a young age. Though Tsai emphasized that participation in these programs would not be limited to DPP party members or nominees, the programs seem broadly aimed at sponsoring young politicians, providing them with a stipend of 30,000 NT and political training. Indeed, this would appear to be one of a series of responses in the wake of the Sunflower movement across the political spectrum aimed at encouraging youth participation in politics with the specter of 2016 elections on the horizon, including the formation of a youth advisory committee to the Executive Yuan. The disconnect of youth from electoral politics in Taiwan, inclusive of the Sunflower movement's non-electoral nature, will likely be a growing issue in years to come.
Ma Ying-Jeou declares need for an "appropriate energy mix" for Taiwan. In comments at the Taiwan Sustainability Summit on Tuesday, Ma referenced his policy statements to move Taiwan towards nuclear-free energy three years ago, and cited Germany as a model for Taiwanese energy transition to emulate. Indeed, the conference was co-sponsored by German institutions including the German Institute Taipei and German Trade Office Taipei.
Meanwhile, the ongoing referendum on the Fourth Nuclear Power Plant has attained the endorsement of 120,000. This allows the referendum to move towards the second stage of the referendum, which requires the endorsement of over 904,000. While Taiwanese anti-nuclear politics saw a resurgence during Lin Yi-Hsiung's hunger strike immediately the Legislative Yuan occupation, protests died down when the government agreed to a temporary halt on reactor construction and following the end of Lin's hunger strike. However, dissatisfaction on the avowed "temporary" nature of the halt persists.
Kinmen Island negotiates economic and tourist relations with mainland China and Hong Kong. As stated by Kinmen Deputy Magistrate Wu Yu-chin on Tuesday, Kinmen is seeking to become a destination for tourists traveling between Hong Kong and Xiamen in China. Kinmen County officials have also been as of late attempting to secure a lower water price from Fujian Province in China in order to resolve the island's water supply problem, efforts of which they said have been attempted for close to twenty years. Kinmen Island, though a Taiwanese territory, is located only several kilometers from China and was a site of mortar shelling from mainland China for some decades from the '50s to the '70s. The site is now a historical site of the Chinese Civil War. A documentary on the near-extinction of the horseshoe crab on Kinmen after the opening of Kinmen to mainland Chinese investment and building of a harbor, entitled The Lost Sea (刪海經), was released last month.
July 16, 2014
According to the Taiwanese FDA, food safety quality sub-par in meat production factories. Only two out of eighty-six factories passed safety standards, fifteen were far short of standards, and seventy-one had minor flaws. Food safety was major scandal in 2013, when it was found that cooking oil had been adulterated by nine major producers and in 2011, when it was found that the plasticizer DEHP was being used in food and drinks instead of palm oil. While there was public responses in the 2013 scandal, and punishments promised, there has been few indicators of reform carried through in at least the media.
Controversy over independence platform in the DPP. Former DPP legislators Kuo Jeng-liang (Julian Kuo) and Chen Zau-nan propose removing the independence clause in the DPP constitution in order to increase chances of victory in the 2016 election, as while the platform of Taiwanese independence is deeply embedded in the history of the DPP, it remains controversial. Even former president Chen Shui-Bian, the one DPP president in Taiwanese history, and who is sometimes seen as being too "pro-Taiwanese," did not have independence as part of his platform. Current DPP legislator Chen Ting-Fei, also in favor of removing the clause, cited Taiwan as being de facto independent, which rendered the clause irrelevant.
White Wolf Chang An-lo in news again after Australian newspaper reports on connections to CCP. Chang An-lo achieved infamy in the 1980s for orchestrating political assassinations for the KMT, but after fleeing to mainland China and staying there for 17 years, has become close with some of the sons of the former high elite Communist officials of the preceding generation, unofficially known as "princelings." Though only free on bail, he now leads the pro-China Chinese Unification Promotion Party. Chang is known to be close to the sister of Taiwanese President and head of the KMT Ma Ying-Jeou, Ma Yi-Nan.
Taipei ranked fifteen in world's top travel destinations, according to Mastercard Worldwide. Taipei comes fifteen to London, Bangkok, Paris, Singapore, Dubai, New York, Istanbul, Kuala Lumpur, Hong Kong, Seoul, Barcelona, Amsterdam, Milan and Rome. Taipei has risen from 18 to 15 in the past year.
July 17, 2014
King Pu-Tsung, popularly seen as Ma Ying-Jeou's political enforcer, continues to raise controversy with visits to government bureaus outside of his jurisdiction. King, formerly Taiwan's representative to the US, was recalled in February immediately before the Sunflower movement to a position as secretary-general of the National Security Council. King subsequently began embroiled in controversy because of visits to the National Police Agency, the Bureau of Investigation, the Immigration Department, and as of yesterday the National Security Bureau, which are viewed as attempts to enforce his authority upon the agencies despite that he may have violated constitutional jurisdictions in doing so. Indeed, as the controversy continues and King continues to visit Taiwanese security agencies, it may be that Ma is attempting tow the line with Taiwan's security apparatuses.
National Central University states that Taiwan's photovoltaic technology is among the world's best. Namely, Taiwanese photovoltaic (PV) technology's strengths are its capacities to produce cheaply but with high rates of efficiency. However, the Taiwanese photovoltaic industry faces strong competition from China, which can oftentimes produce cheaper. When anti-dumping regulations and tariffs were passed against China in 2013 by the US, against Chinese PV producers selling under production rate prices to flood the market, the Taiwanese PV industry saw an upswing, but close ties between the Chinese and Taiwanese PV industry led to the applications of punitive measures to Taiwan because of Chinese PV makers' practice of selling Taiwanese PV cells in order to avoid American tariffs.
95% of buildings on Orchid Island found to be without proper permits. This includes the 7-Eleven which has raised recent controversy because of fear of it displacing traditional groceries as the first 7-Eleven built on the island. Orchid Island has, of course, been the site of much controversy in recent years regarding the nuclear waste disposal facility built on it, the high indigenous population, housing policies towards the native population of the island viewed as unfair, and attempts to nonetheless step up tourism to the island.
Tomorrow, July 18th, marks the one year anniversary of the demolition of the Chang Pharmacy in Dapu, Miaoli. Without summarizing the entirety of the proceedings, Dapu, Miaoli has been in the past two years the site of forced housing evictions for commercial development and the organization of protests against evictions largely led by students. Some have pointed to the development of the activist structures and networks behind the Sunflower movement as having their roots in counter-protests against evictions in Miaoli, indeed, some prominent members of the Black Island Youth Front have their background in Miaoli eviction counter-protests. After the demolition of the Chang Pharmacy in July of last year, owner Chang Sen-wen was found dead under a bridge in September; the death was ruled a suicide, but there are those who remain suspicious.
The Daily Bloom will be on site on Miaoli covering the one anniversary of the Chang Pharmacy demolition today. Watch for us. We will be updating our Facebook page with live updates.
July 18, 2014: Live updates from Dapu, Miaoli
On July 18th, 2014, Daily Bloom covered the one year anniversary of the demolition of the Chang Pharmacy in Dapu, Miaoli.
5:13 PM in front of the former site of Chang Pharmacy.  At this point, volunteers were still setting up.
The start of the concert at 6:04. The crowd outside the former site of the Chang Pharmacy was a little over one hundred at that point in time.
6:33 PM.
Performance at 6:51 PM.
7:10 PM. Crowd appeared to be a little over 200 then.
Speech by film director Ko I-Chen at 7:22 PM. Ko is lead organizer of the Five-Six Movement, an anti-nuclear protest held in Taipei at the CKS Memorial weekly. At present, the Five-Six Movement is holding a demonstration regarding the Chang Pharmacy demolition at the CKS Memorial simultaneous with this one, featuring performances by bands including 2HRS.
Screening of short documentary on the human cost of forced demolitions in Miaoli at 7:48 PM.
8:33 PM during the screening of an interpretive dance film about housing evictions in Miaoli by Hsiao Tzu-han.
Cast of the film at 8:52 PM.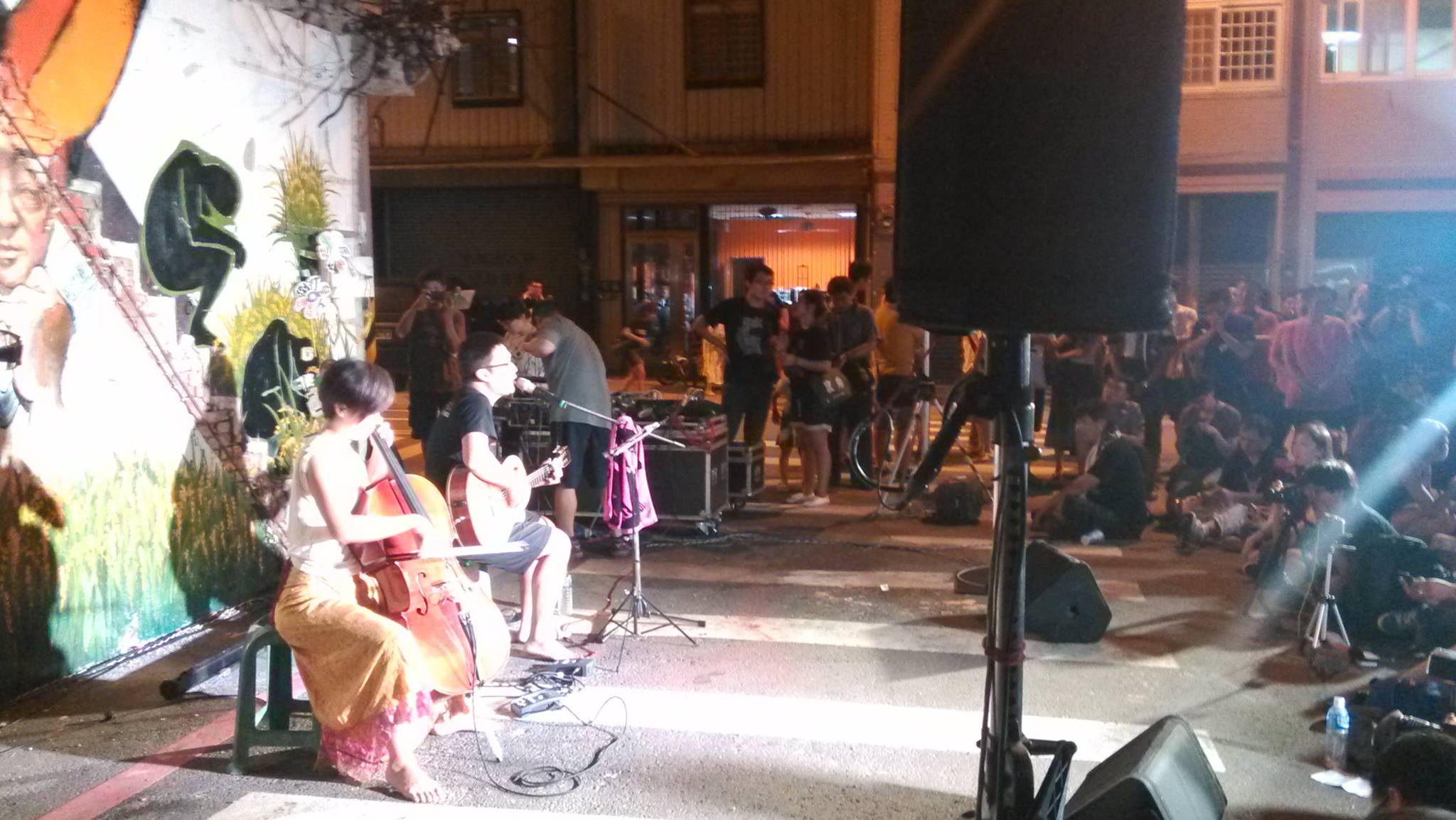 Performance at 9:03 PM.
Performance at 9:33 PM.
The end of the protest as the crowd gradually begins to disperse around 9:47 PM.

The mural at the former site of the Chang Pharmacy.
July 19 and 20, 2014
Controversy over DPP independence clause continues. On Saturday, DPP Chairwoman Tsai Ing-Wen declared support for keeping the clause. However, in a move seen by some as an evasion, yesterday, she declared that discussion of the clause would have to be postponed until the next meeting at the party annual congress. With inter-party factionalism continuing in the DPP despite the banning of factions in 2006, some have seen the party congress as occasion for Tsai's consolidation of the clique around. Tsai is, of course, frontrunner for a possible DPP presidential candidate in the near future.
Number of Chinese tourists to Taiwan expected to exceed one million this year. As according to the Taipei Tourist Bureau, over 500,000 Chinese tourists visited in the first half of this year, twice as last year, the amount could exceed one million. Indeed, on Friday, the director of the Chinese Tourism Bureau announced that residents of 10 more cities would be added to the previous list of 26, who residents are allowed to visit Taiwan independently. Independent travellers to Taiwan who do not come to Taiwan as part of tour groups will still have their daily quota set at 4,000, however, whereas 5,000 continues to be the number of those who come part of tour groups.
Hundreds of Falun Gong members march in Taipei to remember persecution. Counts range from about 500 to over a thousand, the group marched from Taipei 101 to the Presidential Residence this past Sunday. The march marked the 15th anniversary the date in which the CCP began targeting the Falun Gong, with imprisonment, torture, and the alleged harvesting of organs from live Falun Gong members. Spokesmen called on Taiwanese politicians to pay more attention to their plight.
First Lady Chow Mei-ching will not be attending opening ceremony of the National Palace Museum's exhibition at the Kyushu Museum in Japan. Controversy previously erupted over advertisement for the National Palace Museum's exhibition in the Tokyo National Museum which referred to the National Palace Museum as merely the "Palace Museum," rendering it indistinguishable from its mainland Chinese counterpart. The museum apologized, but Chow did not attend the opening ceremony of the exhibition's opening as a result.
July 21, 2014
MRT stabbing incident suspect Cheng Chieh indicted on four counts of murder and twenty-two counts of attempted murder. The stabbing incident, which happened in May, was the first incident of murder in the Taipei MRT, and provoked widespread social panic, with social commentators questioning the social values of contemporary Taiwanese youth. Cheng, twenty-one, now faces the possibility of the death penalty, which will no doubt be further controversial with some calling for the use of the death penalty in his case in spite of the degree to which capital punishment has been a tumultuously debated issue in recent years. Since the subway incident, the Taipei MRT has seen increased security, with patrols of police now being a common sight.
Formosa Ha Tinh Steel company promised reparations for damage during Vietnam riots. Riots this past May targeting Chinese and Taiwanese companies came in the wake of originally peaceful protests against the placement of a Chinese oil rig in territorial waters claimed by Vietnam, but more broadly reflect larger anxiety about growing Chinese economic power in the region. It was no small matter of irony for many Taiwanese that immediately in the wake of the Sunflower movement which sought address concerns of China's growing influence over Taiwan that the Taiwanese government attempted to distinguish Taiwanese factories from Chinese factories during the riots even whereas it had previously effaced Taiwanese-Chinese distinctions. Of course, the picture remains more complicated, with many Taiwanese factories employing mainland Chinese intermediaries, contractors, and workers. Hanoi's payment of reparations would be an attempt to lure back companies and repair its damaged image after the riots, but comes after previous rounds of failed negotiations.
Independent Taipei mayoral candidate Ko Wen-je defends public housing plan to build 50,000 housing units aimed at young and financially needy. The plan would call for building the rent-only units at a cost of 100 billion NT, but Ko's plan was criticized by KMT candidate Sean Lien as unrealistic. Housing continue to be an issue in Taipei, with housing prices skyrocketing, and housing generally remaining unaffordable for young people. While in recent years, young have begun migrating outside of Taipei to live in the cheaper housing in the surrounding New Taipei City, construction plans to facilitate easier transport between New Taipei City and Taipei have seen problems with slow pace of construction and corruption intended to prime real estate prices.
July 22, 2014
Control Yuan member Huang Huang-hsiung publishes report into KMT party assets. The KMT has come under fire in the past for that after Taiwanese democratization, the KMT refused to turn over party assets dating from the Martial Law period to the Taiwanese government. What is in question is that after coming to Taiwan in 1949, the KMT also brought a significant amount of party resources over from mainland China, and it has sometimes been suggested that the KMT may be one of the wealthiest political parties in the world as a result. Huang referred to KMT assets as the "Ring" of Taiwanese politics, citing comparison to Sauron's ring in the Lord of the Rings fictional trilogy. Huang is a two-term member of the Control Yuan who has not been nominated for another term, and he cites the lack of interest of other Control Yuan members into this longstanding problem of Taiwanese politics as his reason for publishing the report.
First meeting of Executive Yuan youth advisory group held. The call for the formation of a youth advisory committee to the Executive Yuan was, of course, a response to Sunflower movement and the view that it was of necessity for politicians to remain in touch with youth. Thus, the announcement of the formation of the committee came after a speech by President Ma citing the disconnect between youth and political politicians. Twenty-seven advisors were named from 248 applicants between the ages of 18 and 35, but two resigned before the meeting, and three did not attend the meeting. The meeting, which lasted 90 minutes, was not open to the media, but participants were divided into six groups, each with a different focus. This is not the only effort aimed at raising the level of youth participation in Taiwanese politics recently, including a DPP young politicians initiative, and the Mosaic program aimed at allowing young leaders from countries abroad to get to know Taiwan. The Ministry of Foreign Affairs has also announced a summer camp to allow Taiwanese young people to better know international affairs, however, to be held in English
Minister of Economic Affairs Chang Chia-juch declares need for maintaining Nuclear Reactors No. 1, 2, and 3 after halting of work on Nuclear Reactor No. 4. The Taiwanese government has cited the necessity of maintaining nuclear power for Taiwan's power supply in recent months, although President Ma pledged as recently as 2013 that Taiwan would move towards a policy of no nuclear energy. Nuclear Reactor No. 1 is currently reaching the limit of storage for spent nuclear power rods which will necessitate the construction of new storage, but storage of nuclear waste materials has generally been controversial as well, most prominently in regards to storage facilities on Lanyu Island.
July 23, 2014
Plane crash in Penghu with up to 45 feared dead, 9 injured. The flight, GE 222, took flight from Kaoshiung at 5:00 PM, but crashed around 7 PM outside Magong airport, near Penghu Island. There were a total of 54 passengers and 4 crew on the plane, which was operated by TransAsia Airways.
Labor Minister Pan Shi-wei comes under fire for reports of his having an affair with his secretary. This was reported on by Next Magazine. Pan threatened libel accusations and stressed the transparency of his travel arrangements with his secretary, who has been Pan's secretary for six years, he also suggested that Next Magazine would only report such on the basis of his being a man and his secretary a woman.
Academic Tung Li-Wen cites the creation of 116 new political parties after beginning of Ma administration. Tung suggested that these groups were mobilized during mainland Chinese Taiwan Affairs Office Minister Zhang Zhijun's visit to Taiwan last month in order to provide a show of support and that mainland China is backing many of the groups, with the end of being able to influence the 2016 presidential election if they can come to control as little as 3 to 5% of the vote.
Control Yuan member, Huang Huang-hsiung publishes an interview with former President Chen Shui-Bian in which Chen states that he would be "better off dead". Huang was last in the news for reporting KMT party assets as the end result of an apparently fifteen year long investigations. Chen has been jailed since 2008 on charges of money laundering and corruption in what critics allege is politically motivated suppression of dissidence by the KMT. Chen's health has been declining as of 2012 and there are many that call for his release on health grounds, following a suicide attempt by Chen. Chen has been sentenced to a twenty year prison term, commuted from life imprisonment.
July 24, 2014
Minister of Labor Pan Shih-wei resigns after Next Magazine publishes report claiming Pan involved in affair with secretary. Pan previously denied accusations, stating that Next Magazine was producing these claims simply because he was a man and his secretary a woman. This is not the only high profile resignation of a government minister in recent months due to public scandal, including the resignation of Minister of Education Chiang Wei-ling after a scandal involving alleged academic fraud.
In an interview with BBC China, Premier Jiang Yi-huah stresses need for free economic zones for relations with Japan, rather than China. Jiang struck out at critics for misunderstanding the proposed free economic zones, which have come under criticism for the possibility that they might lead to Chinese economic control of China, are aimed at Japan rather than China. Jiang nevertheless stated that he viewed a meeting between Ma Ying-Jeou and Xi Jinping as necessity for the future of Taiwanese-Chinese cross-strait relations. Again, some have speculated that Taiwan and Japan may align closer together in the future to counter the threat of China, but more speculation has been in the vein of military alliance, rather than economic alliance. Jiang was a vocal critic of the Sunflower movement during the Legislative Yuan occupation.
In the same interview, Jiang also stressed that Taiwan had sent Vietnam an "ultimatum" regarding economic compensation after riots in May regarding a possible shift in relations should Taiwan not be compensated adequately. Fears of economic and territorial encroachment by China led to the outbreak of violence last May, including damages to Taiwanese factories. Jiang claimed that had the same happened in Taiwan, Taiwan would have sought to pay reparations right away, and raised the possibility of international sanctions.
Chairman of the Chang Chi Foodstuff Factory Company, Kao Cheng-li, sentenced to twelve years in prison after food oil scandal. This comes as a reduction in charges after Kao was previously sentenced to 16 years in prison in December. The 2013 scandal regarding false labeling and illegal cost-cutting measures by a number of Taiwanese food companies of their products; in particular, Chang Chi Foodstuff Factory Company adulterated higher grade cooking oil with lower grade cottonseed oil and added copper chlorophyllin to their olive oil. Chang Chi Foodstuff Factory Company was also fined 38 million NT, but this was lowered from a previously slated fine of 50 million NT.
July 25, 26, and 27, 2014
Farglory Group Chairman, Chao Teng-hsiung, released on bail of 30 million NT. Chao had previously been denied bail on July 18 and has been jailed since June 3rd on charges that he bribed Taoyuan Deputy County Magistrate Yeh Shih-wen in order to secure a housing contract for a low-cost housing project in Taoyuan. Farglory Group was prominently featured in the news in April and May because of threats of violence by Farglory employees against activists protesting Farglory Group's illegal removal of trees at the site of the construction for the future Taipei Dome. As for Chao himself, he is estimated to be worth 1.7 billion USD by Forbes, which is approximately 51 billion NT.
China's PLA to hold land, sea military exercises in near future. A series of land-based live fire drills involving six regional military commands is to be held until September and is thought to be in response to recent US, Japan, and Indian cooperative military exercises off the coast of the Sea of Japan. Another military exercise has been held in inner Mongolia since mid-July. Furthermore, starting from tomorrow, China will be holding live fire exercises for five days in the South and East China Seas starting Tuesday. These exercises are said to be larger scale and higher profile than previous exercises.
KMT to exhibit historical documents, artifacts in celebration of 120th anniversary. The exhibition will begin in Tainan this Saturday, then travel to Pingtung City on August 30th, Yilan City on September 30th, Zhongli City on October 5th, and Taipei on October 18th. The exhibition includes documents of Mao Zedong and former CCP general-secretary Chen Duxiu's registration in the KMT as well as letters by female revolutionary Qiu Jin.
July 28, 2014
Ministry of Interior says they will consider Wang Dan's recent case to reenter Taiwan for medical treatment. Wang Dan, a Chinese democracy activist and one of the prominent student leaders of Tiananmen Square, has been living in the US in exile from China but teaching at Taiwanese universities for the last several years. Suffering from dizziness in recent months, Wang said on his Facebook page that he suspects he may have a blood clot or a brain tumor and he wishes to receive treatment through the National Health Insurance program in Taiwan, which he has been paying for the duration of his employment in Taiwan. The Ministry of the Interior said they will review his case.
First Lady Chow Mei-Ching to visit Japan next month. Chow will attend a ceremony at the Tokyo National Museum as honorary leader of a children's choir group. This comes after a spat last month regarding the exhibition of artifacts from the National Palace Museum at the Tokyo National Museum that ensued when reportedly the word "National" was left off of advertising, making the National Palace Museum indistinguishable from its Beijing counterpart, the Palace Museum. Chow was scheduled to attend the opening ceremony on June 23rd, but the visit was called off.
Taiwan Mainland Affairs Council issues condemnation of Chinese actions at academic conference. At the 20th conference of the European Association of Chinese Studies which was held in the cities of Braga and Coimbra in Portugal from July 22nd to July 26th, Xu Lin, director of the Chinese National Office for Teaching Chinese as a Foreign Language, popularly known as the "Hanban", demanded that an ad for the Chiang Ching-kuo Foundation for International Scholarly Exchange be torn out of the program. That the University of Minho that was hosting the conference in Braga complied without consulting the Chiang Ching-kuo Foundation led to the foundation lodging a complaint with the Mainland Affairs Council. Reportedly, the European Association of Chinese Studies also condemned the incident publicly.
July 29, 2014
Premier Jiang Yi-Huah to appear to in Taipei District Court on murder accusations by Sunflower activists. The suit in question was filed in regards to the attempted occupation of the Executive Yuan on March 23rd, five days after the occupation of the Legislative Yuan by student activists that began the Sunflower movement. This is the first time in Taiwanese history the premier has been accused of murder charges in court and the suit was filed by 23 injured protestors. Zhongzheng First Police Precinct Chief Fang Yang-ning, who resigned during the movement in an incident when over one thousand protestors surrounded the Zhongzheng First Police Precinct, is one of Jiang's co-defendants.
National Immigration Agency says Wang Dan must follow regulations if he is to reenter Taiwan. Wang was denied the possibility of being an exception to the rules and was informed he had to obtain a reentry permit first in order to reenter. Wang, who was previously hoping to enter with a Taiwan entry permit and his Green Card, and is hoping to reenter Taiwan because of health reasons, expressed disappointment. He said he will turn to the US government for assistance next.  Some have criticized Wang's actions as seeking special privilege.
Army Major General Li Hsien-sheng removed from position as head of Taiwanese defense in the US. Li was removed after failing polygraph tests and making "unauthorized contacts" in the US. Li has since been replaced with Rear Admiral Yang Ta-wei of the Taiwanese navy. Li's position was a sensitive one because of the need to negotiate with the American military regarding cross-straits defense, purchases of weaponry, and so forth, but also fears of Chinese spying, corruption, and the leaking of military secrets.
July 30, 2014
Protest held outside Taipei District Court yesterday against Premier Jiang Yi-Huah. Premier Jiang Yi-Huah, along with several high ranking police officials, has been charged with attempted murder by 23 injured protestors from the attempt to occupy the Executive Yuan during the Sunflower movement which ended with the use of police violence to evict occupiers and protestors in the vicinity. Jiang appeared in court for approximately two hours, during which time about one hundred protestors were in front of the courthouse, and three hundred police surrounding it.
Coalition for Taiwan as a Happy Country demonstrates for abolition of Control Yuan. The demonstration was in response to calls by outgoing Control Yuan president Wang Chien-shien to abolish the Control Yuan, citing its inability to halt corruption as its intended position as a branch of government is intended to do, corruption within the Control Yuan itself, and its drain on taxpayer resources. The group urged Wang to call for the Control Yuan's abolition after his term ends on Thursday. On Tuesday, the Legislative Yuan rejected 11 of Ma Ying-Jeou's intended candidates for the Control Yuan and approved 16 others, meaning it remains a question as to how to fill the 29 seats of the Control Yuan overall. KMT caucus whip Lin Hung-chih subsequently resigned over the rejection of these 11 candidates.
Straits Exchange Foundation Chairman Lin Join-sane vows that protests against the CSSTA will not affect Taiwan-China relations. He stated in public comments that negotiations will proceed as normal and are, in fact, proceeding as before and hailed Taiwan Affairs Office Minister Zhang Zhijun's visit to Taiwan last month, which saw heavy protest against him, as a success. The Straits Exchange Foundation is a semi-official body which carries out negotiations with mainland China subordinate to the Mainland Affairs Council of the Executive Yuan.